The Clinical Research Ecosystem: Largest Negative Impact on Workflows
We often hear the phrase "do more with less" but is it possible to "do LESS with less"? In other words, can we lessen the amount of administrative work when budgets for hiring additional staff are tight or non-existent? 
I recently attended a session at the May ACRP Conference in Dallas  that focused on "factors that negatively impact the efficiency of clinical research operational workflows". In a room of over 100 attendees, the  main factor identified as negatively impacting workflows was "Capacity Gap" (49%) which includes issues such as lack of staff, turnover, and unreasonable workloads. The next most problematic was Technology Overload (22%) referring to problems like lack of system integrations and communication as well as inefficient tech workflows and logins. The third greatest factor was Communication Issues (18%) such as slow response time from sponsors and CROs and lack of transparency between sites/sponsors/vendors.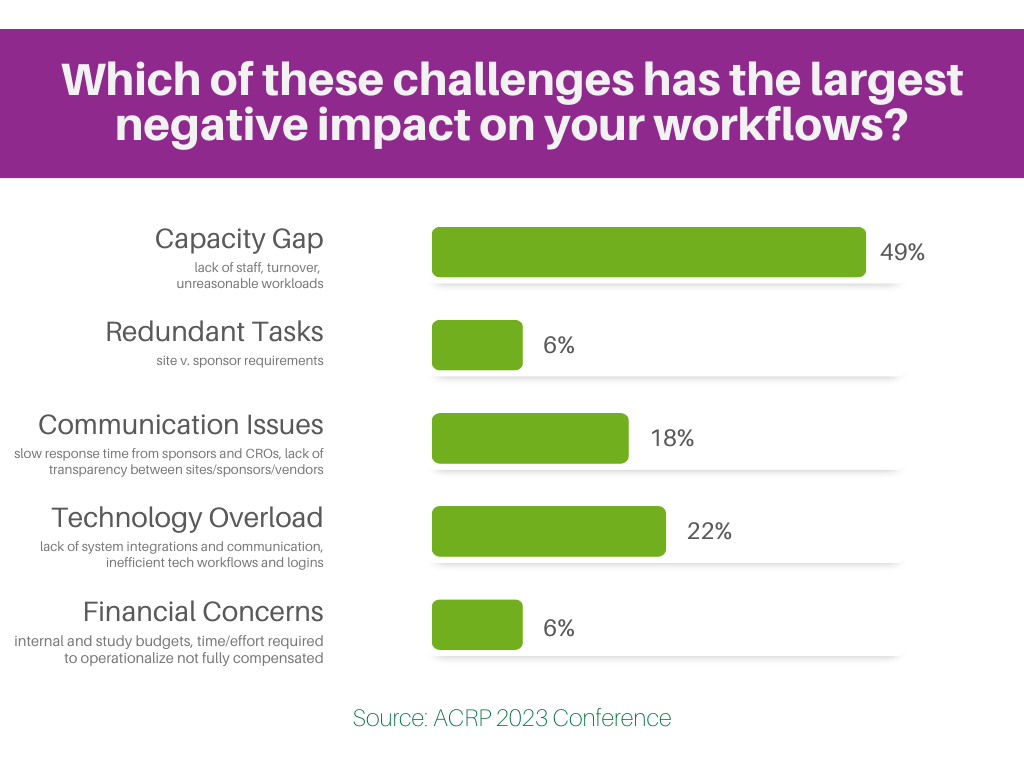 The overriding theme was finding ways to "work smarter and more efficiently" within the clinical research ecosystem through interoperability of systems that save time and reduce complexity. These are clear innovation goals vendors such as Greenphire continue to support with our expanding suite of web-based products.  
During the conference, I had many conversations  about the digitization of participant payments and Greenphire's integration of rideshare within the ClinCard portal for US sites. In the case of rideshare, there was tremendous interest from attendees. They cited that making separate transportation arrangements for participants was time-consuming and challenging for certain populations, which often caused missed visits and decreased retention. Rideshare integration alone, many commented, would save administrative time and likely boost retention—a win-win.
Our Greenphire team also spoke to sponsors and CROs about the additional suite of Greenphire's solutions including eClinicalGPS, ConneX and EnvisiX and our latest platform offering, GreenSpace. Greenphire continues building interrelated ecosystem functionality with a focus on integrations, providing a more streamlined experience for users. These interrelated tools relate back to the notion of "doing more with less", especially when staff are limited and overworked. They do this by eliminating manual tasks such as participant payment and expense reimbursement, ride scheduling, travel itinerary creation, and invoicing standardization for multi-site trials. 
This ecosystem train is well down the track and Greenphire believes future economies can be realized through the full use of these consolidated and interoperable technologies.     
Greenphire is dedicated to creating solutions that make it easy for sites to improve the patient experience and streamline the clinical trial lifecycle. If you would like to learn more about our solutions, check out these resources!
Ready to Join the World of Smarter Trials?
Request a demo to see our solutions in action.