Greenphire's Tech
Innovation Process
Proven, Award-Winning Technology Starts with a Vision
Our team is committed to innovation, and our journey to delivery starts with a vision. We focus heavily on collaboration throughout our sprint cycles with an eye on design, data and security along the way.
Learn more about Greenphire's innovation process below.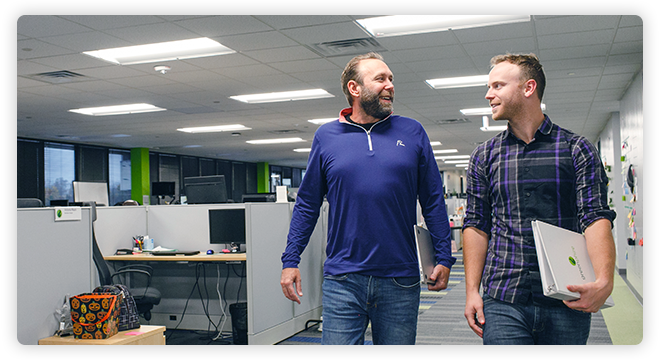 Vision
Whether it's a new product, additional feature, or an enhancement to current functionality, every innovation begins with a vision. Through employee brainstorms and user feedback, we are constantly evaluating our offerings to help our clients do their job better.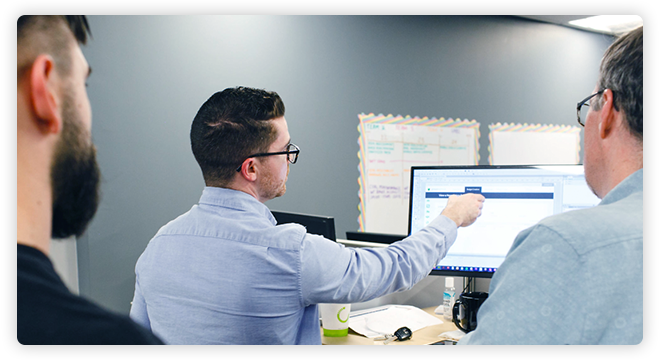 Cross-Functional Kickoff
We begin the development process by bringing together representatives from across the company, including IT and product, to gather robust input on product delivery. Stories are generated through cross-functional meetings and story mapping. From UX to architecture, requirements are defined and a continual backlog is generated.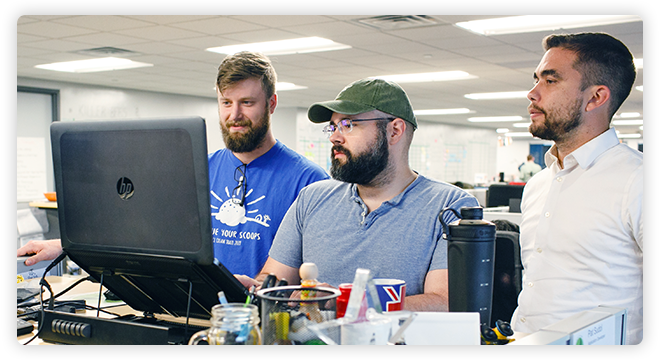 Sprint Cycles
Sprints are scheduled in two-week cycles to enhance our pipelines through DevSecOps.  Developers, data engineers, and software testers cyclically evaluate the software development. Through daily stand-ups, collaborative code building, pair programming, swarming and peer code reviews, teams make sure coding standards and layouts are consistent and timelines are being met. Integrated software testers for each Scrum team use positive and negative test casing to ensure software quality. And finally, retrospectives give team members the ability to inspect and adapt and provide feedback for enhanced future collaborations.
Showcase Demos
Weekly showcases are an important piece of our innovation process. Scrum teams showcase their work to get peer and key stakeholder feedback and buy-in. These showcases are just another way that Greenphire celebrates our employees' successes and contributions.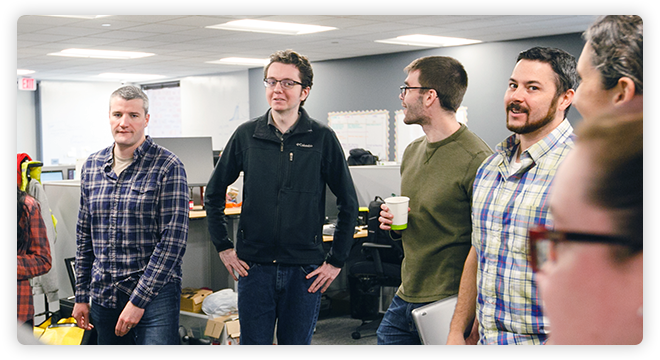 Delivery
Because Greenphire works in both the finance and healthcare industries, we must ensure our products comply with strict regulatory mandates and are audit-ready at all times. This is achieved through regular security scans, both on the application and within the hardware, as well as third party testing against OWASP standards by white-hat hackers. We also rely on both internal and external user acceptance testing (UAT). We deploy new features, functionality and bug fixes on a regular basis, keeping our products in top shape and on the cutting edge of our industry. 
Security and Compliance
Greenphire is committed to providing the highest levels of privacy, security and reliability for our customers.
Insights & Resources From Our Tech Team
Be a Part of the Process
Are you looking to join a collaborative team and spend your days contributing to industry-leading innovation? Check out our Careers page to apply for an open position.