Thanksgiving 2020: A Lot to be Thankful For
From our beginnings as a company of less than 50 people, we have celebrated Thanksgiving together at Greenphire. The company supplies the turkeys, and employees bring a wide variety of their family's traditional fare. It's always a blast! (Check out these pictures and perspectives of Thanksgiving past in 2019, 2018).
Since we've largely been working remotely since March, we were unable to have our traditional Thanksgiving feast together. However, our company culture remains strong and thanks to our incredible HR team, we were able to pivot and host a virtual get together of the Greenphire Phamily to celebrate our favorite tradition, with a new twist.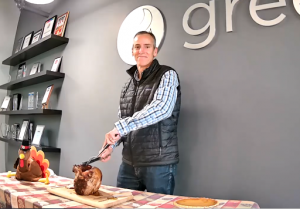 Last week we invited Chef and Food Network personality Robin Miller to lead us through a cooking extravaganza in preparation for Thanksgiving. We enjoyed spending time together, learning new tips and sharing laughs.
Another part of our Greenphire tradition is reflecting back and sharing what we are thankful for. Personally, I am thankful for my family, health and this incredible Greenphire team.
When we asked our Greenphire phamily, the notion of good health was top of mind for many of our colleagues.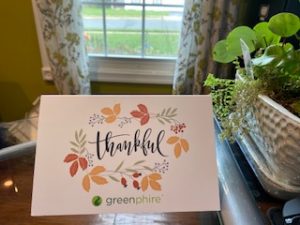 In their words, here's what some of our teammates are thankful for this year:
Faisal Shahzad, Relationship Manager, UK 
There are lots of things that I am thankful for but particular this year when it has been very challenging for everyone, I am thankful for the fact that everyone around me is safe and I am fortunate enough to be able to provide for my family having a stable job when people across the globe are strained mentally, financially and physically due to the pandemic. 
 Jessica D'Angelo, Sales Engineer
My family's health.
April Busch, Associate Director of Enterprise Implementation and Support
Friends who are supportive and there for you to listen.
Teeaira Small, Project Manager
Being able to stay employed through this pandemic.
Kerri Kennedy, Project Manager II
Modern medicine!
Justin Kenward, IT
Family's health
Kate Barbier, Team Lead – Project Management 
Family and Health. I am also grateful to work for a company who supports its employees and has a positive impact in the clinical trial process.
Ally Magno, Project Manager 
A lot. I have a job, I adopted a dog, I paid off my student loan, bought a new car, spend quality time with family
James Owens, User Experience Designer
My health and the ability to keep my job during the pandemic
Kelsey Yocum, Relationship Manager
All the time I've got to spend with my fur babies, my supportive company and co workers, my family and most importantly my health. 
Mari Morelos, Treasury Associate
Thankful for my coworkers!
Rachel Diamond, Relationship Manager
I am thankful for what I can still celebrate in such a crazy year!
Jill Zinszer, Project Manager
My family, friends, and job!
Paige Infortuna, Business Operations Manager
I have so much to be Thankful for in 2020, my family, my health and my wonderful job at Greenphire.  While things may be a little more challenging in many ways I am appreciating the simple things I never had time for, walks, curling up with a book, cooking and writing letters.  
Amy Sitnick, Vice President, Marketing
Teachers. 

And last but not least,
Jill Ayres, Project Specialist
Health and a strong internet connection
__
In all, Thanksgiving may look different this year, but it's no less special. Perhaps it's even more special.
We wish all of you – our clients, connections and colleagues, a very safe and festive Thanksgiving holiday.
Ready to Join the World of Smarter Trials?
Request a demo to see our solutions in action.