Embracing a Culture of Quality: Greenphire's Approach to Elevating Trial Operations
When someone mentions quality, different things might come to mind for different people. You may think of your ideal car or what you would consider a four-star restaurant. However, if you ask the person next to you what their definition of a quality car is, you'll realize that everyone's concept of quality differs to some degree. 
When you are searching for quality tools that can assist you with participant retention, managing your participant or investigator payments, travel, and trial budget, what quality requirements come to mind? What components of quality matter the most to you? Are you looking for something that meets your requirements, is easy to use, or has a mobile application? 
At Greenphire (GP), we embrace quality through leading the change in how clinical trials are managed in today's ever-growing, tech-reliant environment. Our approach to achieving this goal is centered on a culture of quality, which is shaped by our four values: All in; As a Team; For a Purpose; Solving Problems. These principles guide us in instilling a quality culture throughout our organization. We do this through leadership, engagement of people, customer focus and relationship management, having a process-based approach, continuous improvement, and evidence-based and risk-reflected decision making. Quality is not just a buzzword for us; it is an integral part of our company's DNA. By leading the way in quality management, we can help improve clinical trial outcomes and ultimately provide better patient experiences.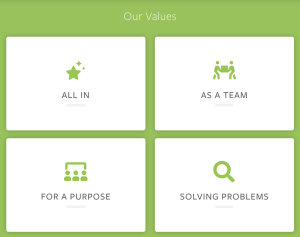 Excellence through Leadership
Quality begins at the top with the Greenphire Executive Leadership Team (GP ELT). To ensure quality, the GP ELT invests in an independent Quality Assurance and Regulatory Compliance Team (QAR). Together, the ELT and the Senior Director of QAR develop annual quality goals to foster process and continuous improvements. These goals are then endorsed by the QAR team as they collaboratively support inter-departmental quality performance. Our All In culture encourages personnel to be vigilant and focused in their work and embrace process improvements to become even more effective. We believe in supporting both our internal customers and our external customers.
Customer Focused Approach
At Greenphire, we prioritize customer focus and relationship management when onboarding your trial with one of Greenphire's solutions. Our Project and Relationship Managers are All In to help you implement Greenphire's technology solutions and services and will provide support to clients throughout the study. We begin every project by understanding your requirements and determining how we can help you meet them. From the moment you reach out to Greenphire, you will have access to a team of trained project and relationship managers that will guide you through the entire Greenphire experience and demonstrate how our various tools can help to set up your studies, arrange stress-free payments to participants, manage rideshare and travel arrangements, project financial requirements based on real-world data and fair market value, and assist with sponsor and CRO financial management.  
Quality Program and Investigation Process
Our policies, standard operating procedures, and work instructions embody our quality program and processes. Our procedures include activities to drive process improvements and risk management. We conduct internal auditing and customer surveys to identify any potential risks and assess the effectiveness of processes and procedures in place. Additionally, we use formal risk analysis and management tools to guide the process, mitigate the identified risks, and track the status of action items.
Further, to make improvements, Greenphire has established a formal investigation process to address quality issues as they arise. Preliminary investigations are performed to discern the severity, root cause, and impact of the issue. Once the scope of the issue is known, determinations are made as to whether to escalate the issue to a more extensive quality investigation based on a set of escalation criteria. Investigations include examining the event to identify the root cause(s) and determining corrective and preventative actions based on the root cause found. 
At Greenphire, we are committed to delivering consistent, high-quality products and services throughout your clinical trials. We aim to create systems and procedures that ensure a seamless and hassle-free experience across all stakeholders from patients and sites to sponsors and CROs. The evidence is in the success of our products, quality systems, and positive feedback via client audits and sustained compliance with certifications and standards (e.g., ISO 27001:2013 and 2022 certification, SOC1 Type II, PCI DSS-SAQ-D)). We are All In, united As a Team, to support your Purpose, and Solve your trial retention and financial challenges.
For more information on Greenphire, please visit these resources:
Ready to Join the World of Smarter Trials?
Request a demo to see our solutions in action.