Sparking the Future of Greenphire
Like the world of clinical trials, the future of work is hybrid.
As COVID-19 surged in 2020, Greenphire swiftly moved into a remote work environment, adapting processes and systems to successfully sustain operations and support the global clinical research industry. Our platform helped to keep clinical participants engaged through virtual payments and direct-to-patient travel services, as well ensuring that clinical research sites were paid promptly.
Then and now, we've empowered our teams with technology tools and a flexible work environment to ensure that they are safe and able to meet the needs of our clients.
Greenphire's unrivalled global participant reimbursement and travel solutions have been adopted by top-25 pharma companies, and numerous other institutions across the globe.  As of Aug 2022, these global solutions have executed 19M+ payments and reimbursements and 205k travel itineraries across 92+ countries.  They have also created more transparency and efficiency for sponsors and CROs and relieved numerous patients and sites of financial and logistical burden.
When other companies are contracting – Greenphire is growing.   In fact, we've doubled our employee size since the beginning of 2020.
In addition, the pandemic gave us the opportunity to understand how our employees prefer to work, and to reflect on how we can best innovate in the future. Our best asset is truly our people, and we are invested in ensuring that our physical work environment reflects the many ways in which our staff will be building the future of clinical trial payment automation.
And so, diverging a bit from pandemic trends, we made the commitment to expand our headquarters in King of Prussia.  But we have done so in a way that provides not only more space, but the right space for how we increasingly work:  as hybrid teams of remote and local workers who come in to brainstorm and collaborate, as innovators who might need to retreat to a comfortable corner with a lovely view and quiet so as to follow the spark of an idea, or as a manager who can always find an attractive space for a spontaneous team huddle.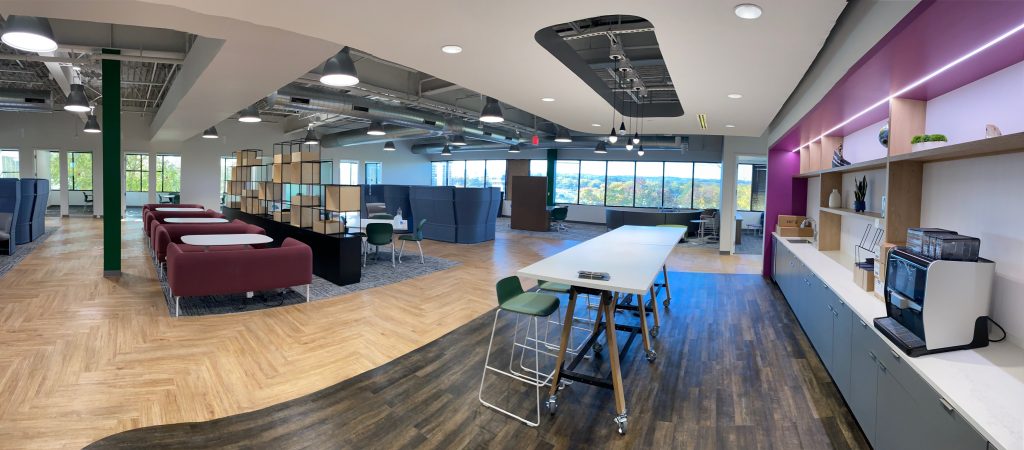 At Greenphire, our work isn't transactional; it's transformational.  And for it to remain so alongside the new set of challenges facing many industries, flexibility is the key to success– as it has continued to be for the patient experience in clinical trials.
When the world went remote, our teammates appreciated additional time with family which contributed to their quality of life.  However, they also miss and  don't want to lose the benefits that come from working collaboratively alongside their colleagues: the ability to conduct in-person brainstorming sessions, cross functional interaction, professional development, or grab a corner of time with a teammate over a cup of coffee.
Greenphire's expanded space enables our flexible, hybrid workforce to live the best of both worlds by offering an environment that truly fosters what we do best:  innovate, problem solve and design the clinical trial payment solutions of the future – today.
We encourage you to:
Ready to Join the World of Smarter Trials?
Request a demo to see our solutions in action.