Moffitt Cancer Center Streamlines Operations and Enhances the Participant Experience for Oncology Trials Through the Implementation of ClinCard®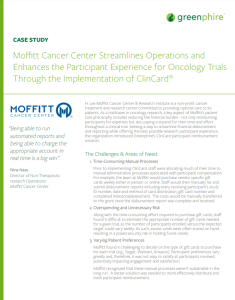 As a trailblazer in oncology research, a key aspect of Moffitt's patient care philosophy includes reducing the financial burden – not only reimbursing participants for expenses but also paying a stipend for their time and effort throughout a clinical trial. Seeking a way to streamline financial disbursement and reporting while offering the best possible research participant experience, the organization introduced Greenphire's ClinCard participant reimbursement solution.
Download the full case study to read more.
Download now
Ready to Join the World of Smarter Trials?
Request a demo to see our solutions in action.