GreenSpace
Welcome To the Next Generation
Digital Participant Experience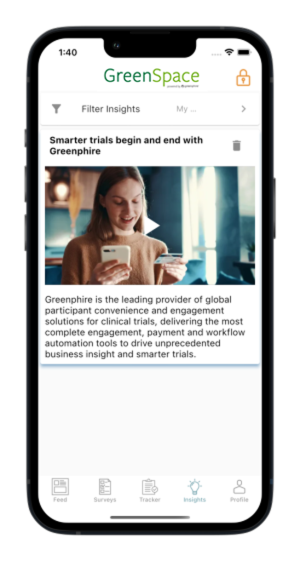 Driving the Future of Clinical Trial Participant Convenience
80% of delays in trial timelines are due to deficient recruitment and retention.
The GreenSpace participant-facing application offers a robust centralized patient experience, supporting engagement throughout the journey.
From trial selection and enrollment to study participation and post-trial reporting and ongoing outreach, GreenSpace – accessible via mobile app (including iPhone and Android) and web – is the single source for a participant's trial experience.
What Sites, Sponsors and CROs are Saying
95%
of sponsors and CROs agree that removing financial
and logistical barriers from patient participation
in clinical trials can improve retention.
86%
of sites feel it is important to give participants
access to study information digitally,
both through the web and mobile applications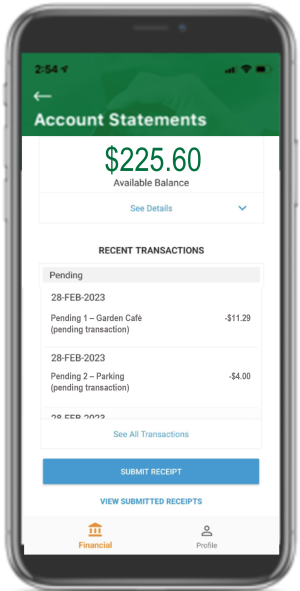 Access ClinCard Through GreenSpace
Eliminating out-of-pocket costs improves patient peace of mind and increases retention. 
Clean design and fit-for-purpose technology ensures improved patient experience and reduced site burden. 
ClinCard is now available on the go – on the web or mobile app, to help participants with real-time access to their account information. 
Reimbursement Request:

empowers participants to take a picture of their receipt and upload for reimbursement

Financial Views:

ClinCard integration offers real-time access to account balance and financial details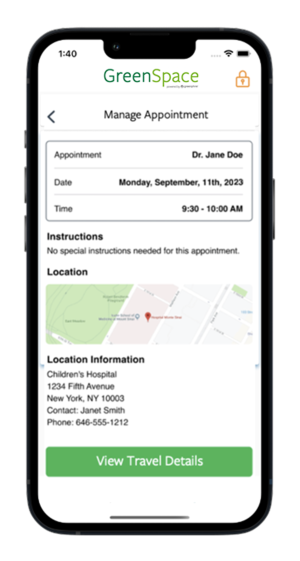 Trial Logistics in the Patient's Palm
According to CISCRP, traveling to the study clinic is the top burden cited by trial participants. Greenphire enables sponsors and CROs to remove logistical obstacles, and now GreenSpace provides 24/7 access, putting the patient in control, eliminating stress and increasing convenience. 
Visit and Travel Details:

ensures successful and timely visits with participant views into visit prep and travel itineraries

Support Access: allows participants to easily connect with a site representative for questions or requests
Is it time to start rethinking mobile clinical trial apps?
"Sponsors and sites should aspire to offer participants a digital companion that supports all parts of the trial, from identifying and enrolling in a trial, accessing relevant and helpful resources, recording information in real time, having a view into site visits and/or travel itineraries, receiving reminders, and providing an easy way to track and manage reimbursements and/or stipends."

Clay Williams, Vice President of Mobile Applications, Greenphire in Outsourcing Pharma
Powerful Engagement, Powered by Patients
Deeper patient engagement can lead to improved insights, recruitment and retention. 
Unlock access to additional offerings such as eConsent, insights, surveys, trial matching and more!
Take the Next Step
You can trust Greenphire. As the global leader in participant convenience solutions for over 15 years, Greenphire has maintained a committment to modernizing and seamlessly integrating each step of the participant journey.
Learn more about our solutions for removing financial and logistical burden from clinical research, and how you can provide a seamless digital experience for your patients using GreenSpace. Complete this form to get started today.