Feedback and
Communications
Win-Win Partnership
In addition to continued support, we also value input from our clients to gather feedback and share information. We offer user surveys and forums to give you a voice in the process. We take that feedback and turn it into real product enhancements, so you become a valued partner in the development of the solutions you use each day. For us, this partnership is a two-way street, and we look forward to beginning the journey with you.
Feedback
Your feedback is of the utmost importance to us! We provide continuous feedback opportunities for every type of user throughout the year. Beginning with our implementation survey, we want to measure how your process went from step 1 of your journey with us. We also leverage surveys such as our site and sponsor satisfaction surveys that are an annual measure of how our clients are experiencing our solutions and services. In addition to surveys, we love talking with clients face to face through user groups and user forums. We take all of this feedback into consideration when developing our product roadmaps, and strategic initiatives.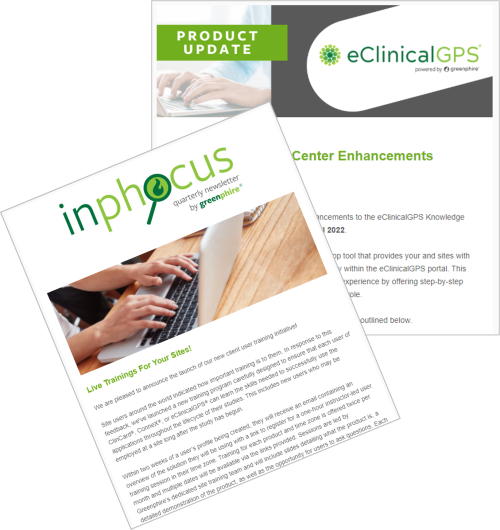 Client Communication
We want to keep you in the loop! Be on the lookout for our regular emails regarding product updates as they come out, as well as our quarterly InPhocus Newsletter which lets you know about major updates and enhancements as well as resources! Don't miss out on our blogs that feature internal subject matter experts, industry leaders, what's happening at Greenphire, industry trends, and more!
Client Events
We want to provide value to our clients through events such as our annual Patient Convenience Summit, where we bring in top industry leaders and Greenphire solution subject matter experts to discuss how you can be optimizing your trial!