2021 Predictions: Getting Down to Business in Clinical Trials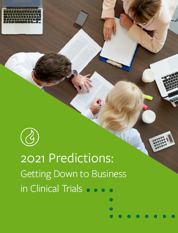 The advancements made in clinical trials were certainly a silver lining of 2020: more focus on patient-centric practices, diversity and technology tools to help sites sustain research in the face of COVID-19.
However, there is much more work to be done. We asked leading sponsors and CROs what they see as the most important area of strategic improvement for their organization in 2021.Their answer? Improving clinical trial operational effectiveness and speed.
Disconnected financial and administrative processes within clinical trials lead to less efficient, less patient-centric studies. But if everyone wants to truly make progress, the answer lies in connecting the dots of the user experience – patient, site, sponsor.
Download Now
Missed our 2021 Predictions Roundtable?
Ready to Join the World of Smarter Trials?
Request a demo to see our solutions in action.