Greenphire
Resource Center
Greenphire Blog, Videos, Case Studies & More
Education is part of our commitment to you. Bookmark this page or join our mailing list to keep track of new insights and resources for clinical trial professionals.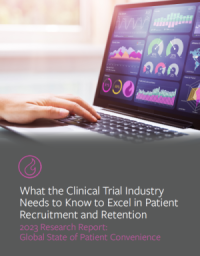 FEATURED RESOURCE
What the Clinical Trial Industry Needs to Know to Excel in Patient Recruitment and Retention
In this year's survey, we asked the global healthcare community – sites, sponsors and CROs – about their sentiment towards emerging clinical trial patient engagement trends. Greenphire has been innovating the clinical trial participant journey since 2008. We channel patient insights as well as feedback from global sites, sponsors and CROs to drive our innovation roadmap. We invite you to utilize this report to identify key performance measures, benchmark your respective patient centric programs and advocate for new services to drive recruitment and retention. Download the white paper to read more.