Meet Moira Gregg and S'more, the K-9 Wonder Who Was Raised to Medically Alert Her
Moira Gregg, Business Development Director at Greenphire, has a new love (and a new guardian angel): S'more! The two share a special bond because S'more is Moira's Type 1 Diabetes medical-alert service dog. Read more about Mo, and how S'more has become part of her, and Greenphire's, family.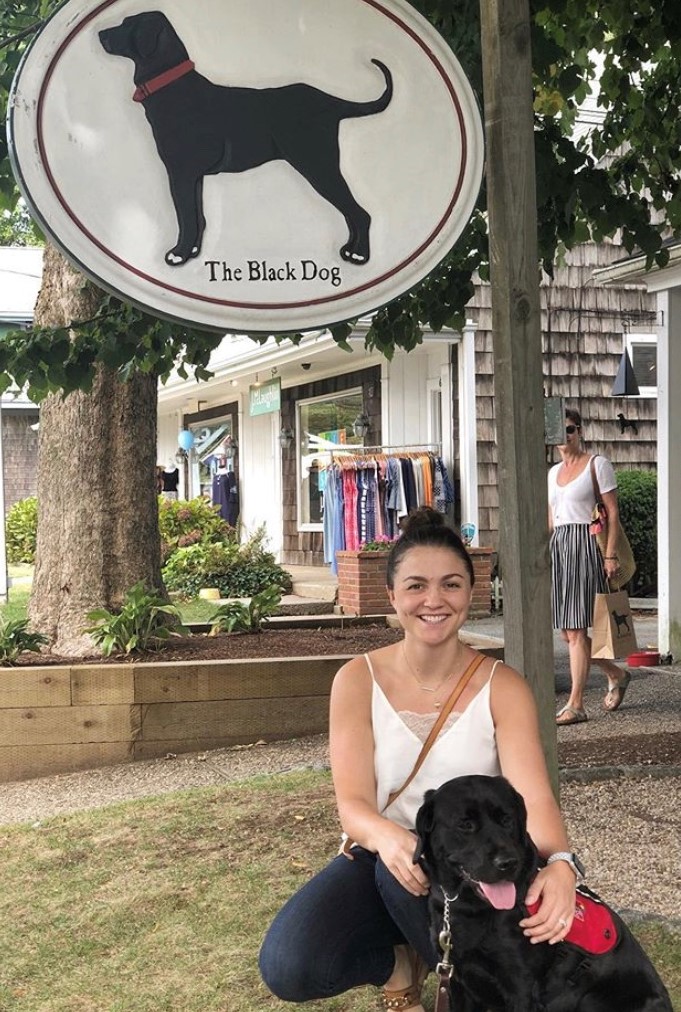 What is your Greenphire story? 
I started at Greenphire four years ago as a member on the Site Sales team. At that time, I believe I was around the 70th employee, so it's been an exciting journey to see Greenphire evolve into the company it is today. After selling ClinCard to independent research sites, hospitals, and universities for a little more than two years, I moved onto the Sponsor Sales team and have been working directly with Pharma and CROs ever since.
Tell us a little bit about diabetes and your journey
I was diagnosed with Type 1 Diabetes just after my 7th birthday more than 20 years ago. My family had no history of Type 1, so they did not know the warning signs or symptoms of the disease. I was admitted into the ER at Children's Hospital of Philadelphia with a blood glucose level of 944, on the verge of a diabetic coma. For reference, normal blood glucose range is 70-110. I consider myself incredibly lucky to be here today.
Diabetes is an invisible disease and goes unnoticed to most, which makes educating others about it difficult at times. Type 1 occurs when your pancreas no longer produces the beta cells that create insulin. Insulin is a life-sustaining hormone that controls your blood sugar levels and keeps your body in homeostasis. When a non-diabetic eats food that has carbohydrates in it — which most foods do — their body responds by producing insulin to keep their sugar from rising above a healthy level. Since I no longer produce insulin, I need to inject myself with synthetic insulin to cover all of my meals. Outside of meals, there are other variables that can increase or decrease your blood sugar, such as: exercise, stress, illness, weather, insufficient sleep, timing of meals, the list goes on.
This makes Type 1 a disease that requires constant attention and management, as blood sugar can rise or fall in a matter of minutes. If my blood sugar goes too low it can lead to unconsciousness, seizures, and in the worst case, death. If my blood sugar goes too high, it can make my blood turn acidic (DKA) and wreak havoc on my nervous system, leading to grave long-term complications over time. This is why diabetics need to keep their blood sugar in a normal range as much as possible.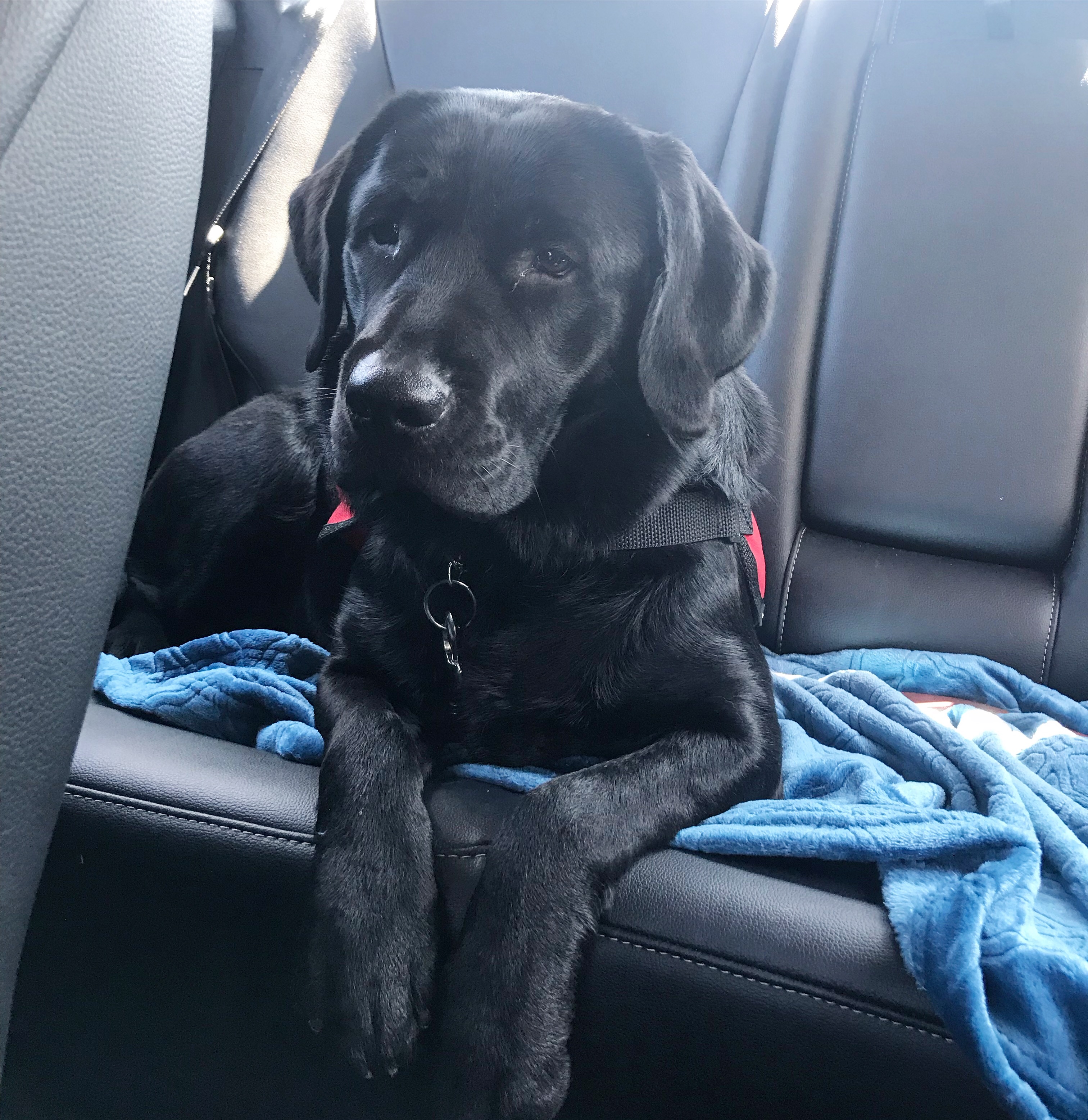 What was the process like to get S'more? 
The process was long and intense! I signed up through an organization located out in Concordia, Kansas and waited 3 years to be placed with S'more. When my time arrived to receive her, I traveled to Kansas and spent an entire week there learning how to handle her and appropriately interact with her as my service dog. Not only did I need to learn the commands and make sure we worked well together, we also had to pass a Public Access Test together before taking her home.
This test consisted of going to a local mall and putting her through an hour of distraction work. She needed to show she was well-behaved and did not get excited or disobey my commands. Some of the distractions included kids running in front of her, tennis balls being thrown around, food being dropped in front of her nose, etc. She needed to stay put and show zero interest in all of these things, which she did!
What is S'mores role in your life?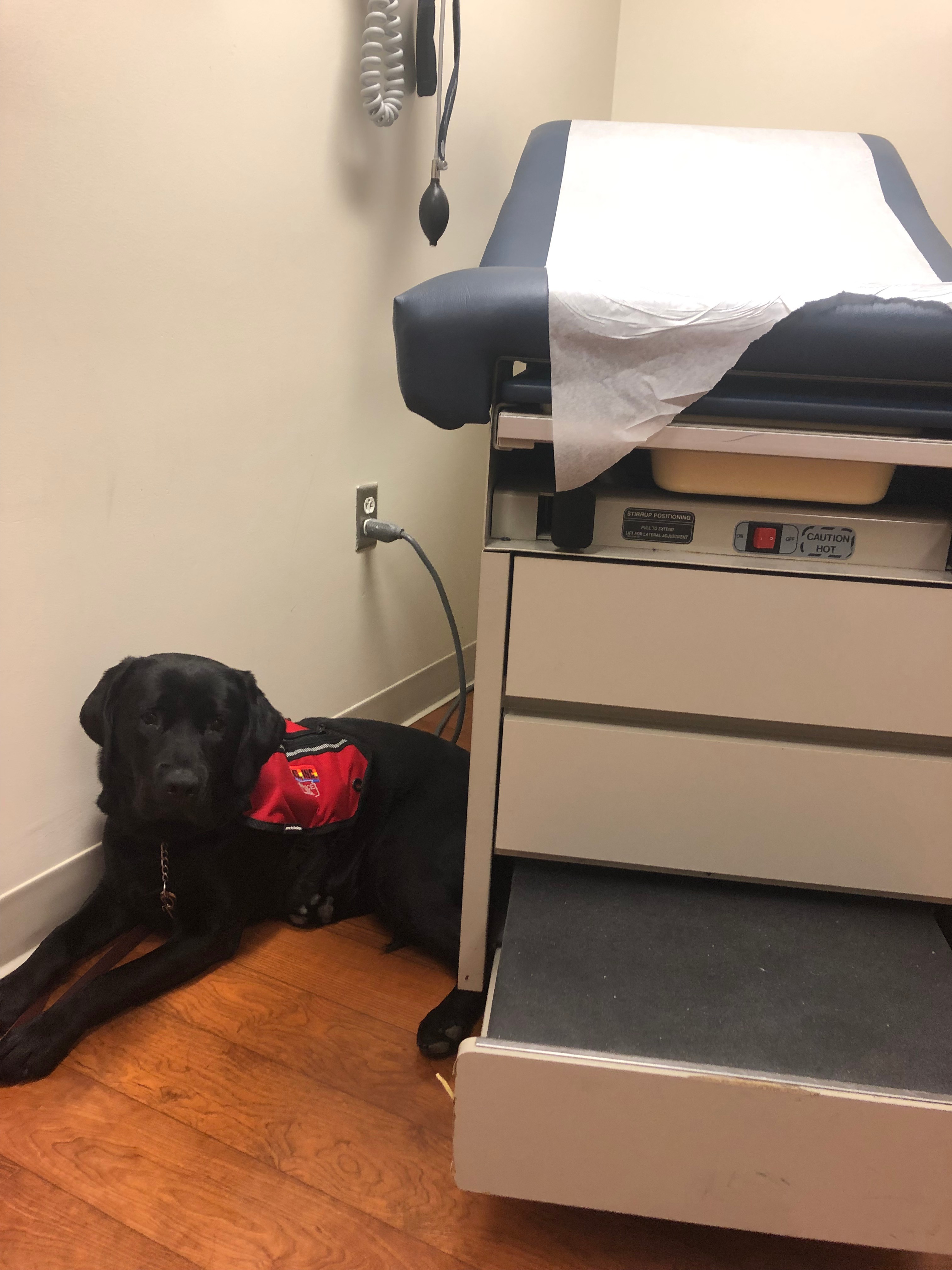 S'more's role is to provide an additional layer of support in managing my diabetes and keeping my blood sugar healthy and in range. Dogs can smell parts per billion, so she is able to detect the change in my body odor and breath when my blood sugar rises and decreases. She went through scent detection training to be able to find those smells and notify me when my blood sugar is fluctuating.  While I have a medical device that provides me with my blood glucose readings, it is not always accurate or in real time — there is about a 10-20 minute delay on it. S'more can detect these changes in my blood as they are happening, allowing me to correct for them as quickly as possible. She also wakes me up at night if my blood sugar is going dangerously low or high.
As far as her cues are concerned, when my blood sugar is high she will come over, stare at me, and give me her paw. When my blood sugar is low, she will also come over and stare at me, but put both of her paws and half her body weight up on my lap (I call it an "easy up".)
In addition to S'more helping you manage your Type 1 Diabetes, do you have any other goals you'd like to achieve with her?
Yes, raising awareness and educating others! There is a lot of misinformation out there on Type 1 Diabetes, and many times people get Type 1 and Type 2 confused. I am an advocate in the T1D community and have worked hard to disseminate information through my social media platform and involvement with JDRF. Having S'more by my side will hopefully bring more attention to this invisible disease and allow me the opportunity to educate even more people!
Ready to Join the World of Smarter Trials?
Request a demo to see our solutions in action.